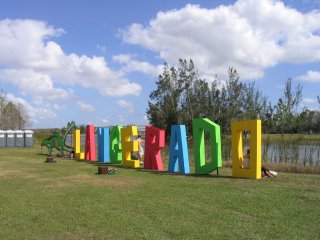 Langerado Festival, March 12-13 2006. (with more pics provided, graciously, by Danya.)

Live music in Florida - at least music that I'd like to hear - is a rare and beautiful thing. So imagine my surprise when I heard that one of the best bands ever will be gracing a traditionally hippie-music festival in Sunrise, Florida, which is near Ft. Lauderdale and borders the Everglades. I'd seen The Flaming Lips once before, in the beautiful renovated theater setting of The Warfield in downtown San Francisco, and it was an incredible, memorable, exciting performance. This show was equally fascinating and maybe even more fun.
So, to start off, Shawn, Danya, and I piled into my car and rocked out to some Lips CDs on our way up. It was a gloriously bright, wonderfully free, Saturday, without work or responsibility of any kind. Upon arriving at the Markham Park, we parked amongst the thousands of other cars in a huge, unmarked, grass field. We headed first to the Swamp Tent to see RJD2 impress the hell out of us with his charming, untraditional, DJ set.




Already, five or ten minutes in, we knew we were in a setting populated by foreigners, specifically, hippies. They were everywhere; with their scruffy beards, tie-dye, blatant drug use, and generally relaxed demeanor. Which was all good! There was dancing and smiling and before we knew it, it was time for the main course of the weekend, The Flaming Lips.

It was still bright out in front of the Sunset Stage as the three of us camped out at the closest possible spot to the stage and waited for the show to begin. We smiled and yelled at Wayne Coyne as he supervised the set-up for the show. They brought out a shiny plastic mesh and we knew we were in for a treat.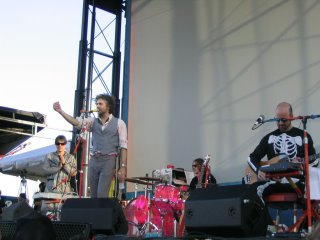 (*clears throat*)

It seemed like he came out of nowhere. Like a Phoenix rising from all the sweat and heat, Wayne came floating down from the ether of space and walked over the crowd, supernaturally, looking shaggy and beardy like Jesus if he grew up in Oklahoma City (and spent the eighties on acid). We all laughed and cried while the band wailed and Wayne floated above us. Finally, Wayne landed on stage amidst applause like you wouldn't believe and launched into a wild, charismatic, performance of The Soft Bulletin's opening number, "Race For The Prize."




If you didn't know, a Flaming Lips show is like a birthday party, complete with balloons, guys in animal costumes, streamers (and guns that shoot streamers), confetti, fancy lights.. did I mention balloons? Lots and lots of balloons.




Next up was probably the highlight of the performance, a rarity from a band with hundreds of songs to choose from, a cover. A beautiful sing-along cover of Queen's "Bohemian Rhapsody." A wonderful experience, shared by thousands of loyal young-and-old's. That song is one of those pop culture abnormalities that defies age or gender. Everyone knew the words. Everyone sang along.




Next, a treat! Two new songs, from the forthcoming (and brilliant) new album, At War With The Mystics, the Prince-esque "Free Radicals" and the Drozdy-genius of the first track off the new album, "The Yeah Yeah Yeah Song." Both of them came off brilliantly live, even with all the weird studio tricks seemingly intact, and a kind of frenzied breathe of newness to the classic Lips set.

Finally, sunset kicked in, darkness overtook the crowd, and the flashlights came out.

Classics followed: "The Gash", "Yoshimi Battles The Pink Robots" (necessary), "Do You Realize??" and even the rarely played first (and only) hit-single in The Lips' 20 year history, "She Don't Use Jelly."




The Flaming Lips show was similar to when I saw them last time. But instead of being up in the nose-bleed section, I was totally close, close enough to almost touch the flying balloons, and get coated with confetti. They put on such a flamboyant, ridiculous, performance, you can't help but have a good time. I built up this performance a lot to my fellow travelers and was worried it wouldn't live up to the hype, but one minute into Bohemian Rhapsody, I knew I didn't have to worry. I'd watch the Lips play everyday if I could. And everyday I would have fun.

We didn't stick around much after that. Unlike the thousands of free-wheelin' hippie s lounging about listening to monotonous grooves about God or whatever, we came specifically to see a handful of bands. So we beat some traffic on the way out and headed home, to do it all again tomorrow.

I woke up the next day with a sneeze. Literally. I don't know what came over me, but I was racked with phlegm the next day. It didn't seem like that big of a deal and so we all loaded onto Danya's jeep and headed up north again, from the cool, bright, buildings of South Beach to the flat emptiness west of the beach. When we got to the park, I was hit again by a wave of allergies that didn't stop ALL DAY. It made me lethargic and uncomfortable and the incredible heat of the day didn't help.




Today, we were destined to see the curious performance by a curious band called Clap Your Hands Say Yeah. These were five guys from Brooklyn (hmm, that seems familiar), serious about music and themselves (well, maybe not so much themselves), but definitely music. They seemed a little humbled to be there, in the nice shade of the Swamp Tent, in front of a small-ish but respectable group of people. When they started to play, guitar problems were our first impression and an almost five minute intro to a four minute song proceeded. But after that first mishap, it was perfect. Flawless.




We were all wondering if we'd be able to decipher some of the lead singer's words during the performance, as if his mumbley-vocal styling on the album would give way to some clarity, finally. Well, it didn't. It was almost worse. The lead singer has a very unique style, his words come clambering out of his mouth in fast-forward, in a high pitch. Musically, the band was in top form. Their complex, shoe-gazey, motifs would sound like so much noise in the hands of lesser musicians, but these guys proved that they can rock AND roll. There were beautiful crescendos and spastic riffs that played out in crystal-clear notes. They scattered some covers amidst their album tracks, notably "Satan Is My Master" by Black Sabbath, a major hit that had the whole crowd chanting, "satan, satan, satan, satan..."




There is a growing, credible, innovative, music scene in Brooklyn right now, with critical darlings, The National, gaining major notice from their sublime album, Alligator, and TV On The Radio who are set to take over the world with their soon-to-be-released instant classic, Return to Cookie Mountain, among others. CYHSY is one of the most exciting bands of the decade and I hope this is just the first of many performances I will see by them.




Next, already tired from the heat (or one particularly stubborn nose), we sat and relaxed while listening to a competent, but ultimately lifeless, performance by indie pioneers, Wilco. For me, Wilco are a powerful, formative, band. Yankee Hotel Foxtrot was a springboard I used to uncover more and more indie bands with unique sounds. For some reason, though, maybe it has to do with their lukewarm latest album, they seemed to have lost a punch. Maybe it's just me. I enjoyed their perfomance but I was not wowed like I was with The Lips and Clap Your Hands. Enjoying a performance is great, but being wowed is the ultimate goal. It was a fun time, though, as Shawn, Danya, and I sat back away from the crowd and had more freedom to dance, play, or just lay back and enjoy the dawn.




Again, we left very soon after Wilco ended their set. We got in a long line of fleeing folks and slowly found our way out of the park and back down to civi- uh, Miami.

Overall, a great, surprising, weekend of live music in unexpected places. With Bloc Party, stellarstarr*, and the upcoming Ultra music festival here in Miami, I hope this interesting trend continues.